Meet Nicolas Ghesquière's slinky new sci-fi girl for Louis
The Louis Vuitton SS17 catwalk show might be one of Paris Fashion Week's biggest talking points this season: When Nicolas Ghesquière hit the iconic French house three years ago, his new vision for Vuitton was retina-searing – forcing the invention of a whole new buzzword (hello, 'retrofuturistic') to describe his fierce mix of retro silhouettes with robo-warrior elements. His punky girl, personified by pink-haired model Fernanda Ly, looked like she'd been beamed down from some kind of fashion planet of the future.

For the last few seasons, the show has been staged at the spaceship-like Fondation Louis Vuitton, designed by Frank Gehry, on the outskirts of Paris. Instead, today's collection was unveiled in the Place Vendôme, one of the most elegant spots in the heart of the city. The venue? The new, not-yet-finished Vuitton flagship – brands showing in their own building sites is clearly a thing this season (see the Saint Laurent SS17 show last week for further proof).

Last spring, his inspiration was drawn from Japanese manga, video games and the sci-fi classic,Tron. Ghesquière might have made leather, in particular the motocross jacket, a Vuitton signature, but he has got form when it comes to flou – it's just that his silk handkerchief dresses of seasons past have been in graphic chain print and teamed with tough tractor-soled boots.

This collection had echoes of Ghesquière's beloved sci-fi and a strong 80s flavour, but it was soft, grown-up and chic – languid draped metallic dresses in (shock) long lengths, sharp as a tack tailoring and – of course – a standout jacket or two.
Here are some of our favourite things from the show…

1.Asymmetric draping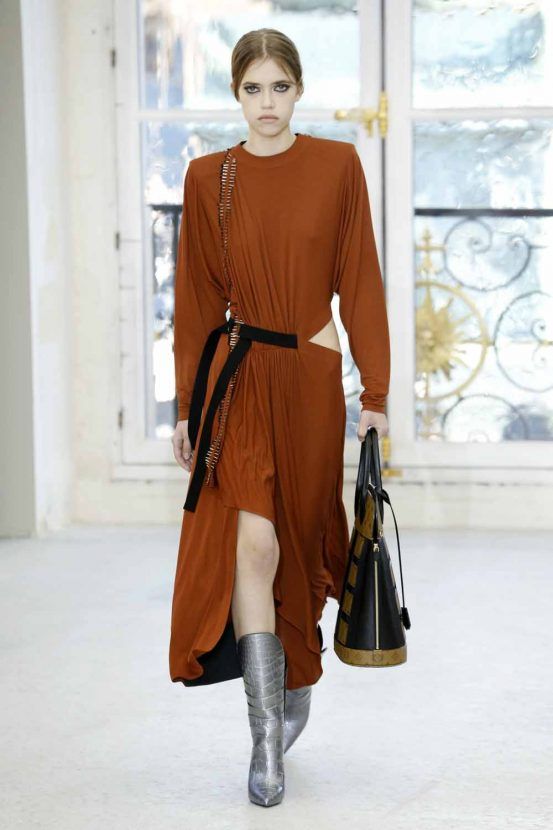 Square-shouldered, long sleeved and flowing sinuously across the body, dresses played a clever game of conceal and reveal – some had one sleeve, or tiny slivers cut away to expose a flash of hip or collarbone.

2.Cape-shouldered tailoring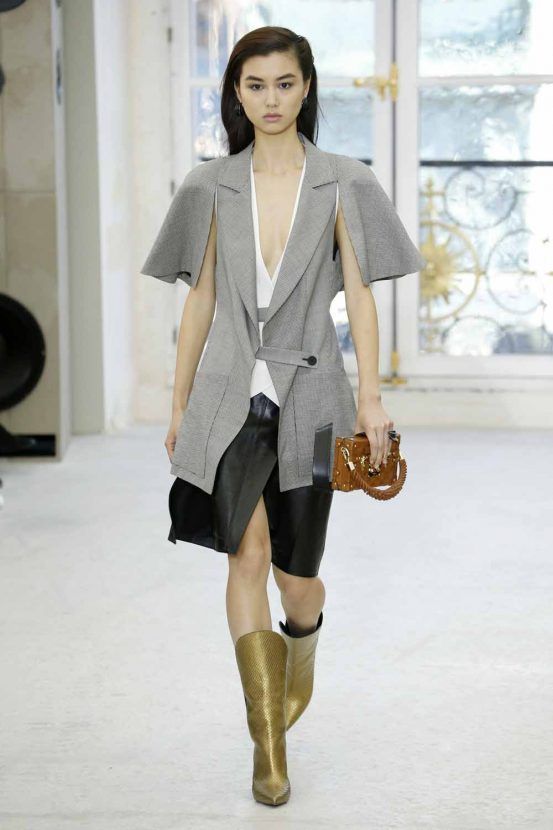 Ghesquiere took the classic Working Girl palette of grey and black for suiting – and made something totally modern with it. If you turned up to a meeting in one of his blazers with fluttering slit cape shoulders and oversized pockets, everyone would be so busy marvelling at the cut of its jib that you could pretty much stay silent and still come out as Female Boss.


That Michael Jackson jacket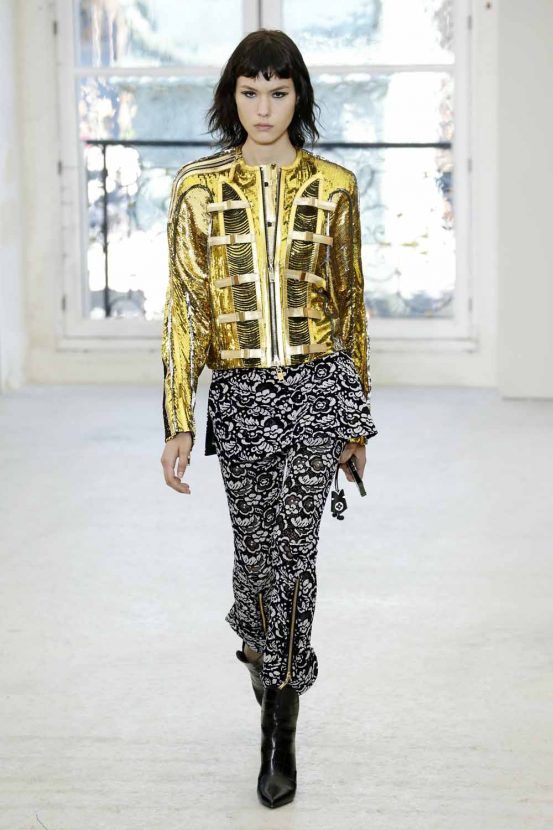 You're the one that I want, ooh ooh ooh, honey, the one that I want…it's got zips, it's got gold sequins, it's got big shoulders…it's everything

Sheer Dynasty dresses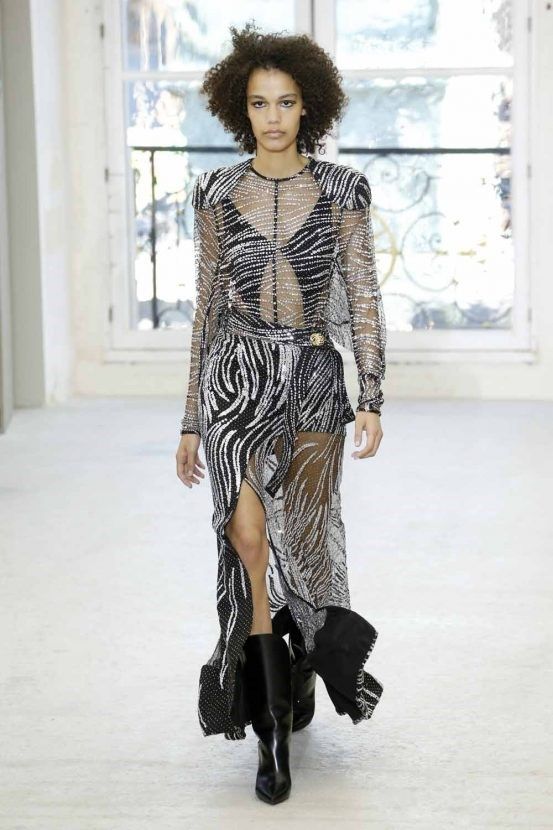 For a dress that features Dolly Parton-level spangle, reveals a large amount of torso (and leg) and looks like you're wearing your shoulder pads on the outside – this dress somehow manages to look like class personified. Strange and clever.

Boots and bangles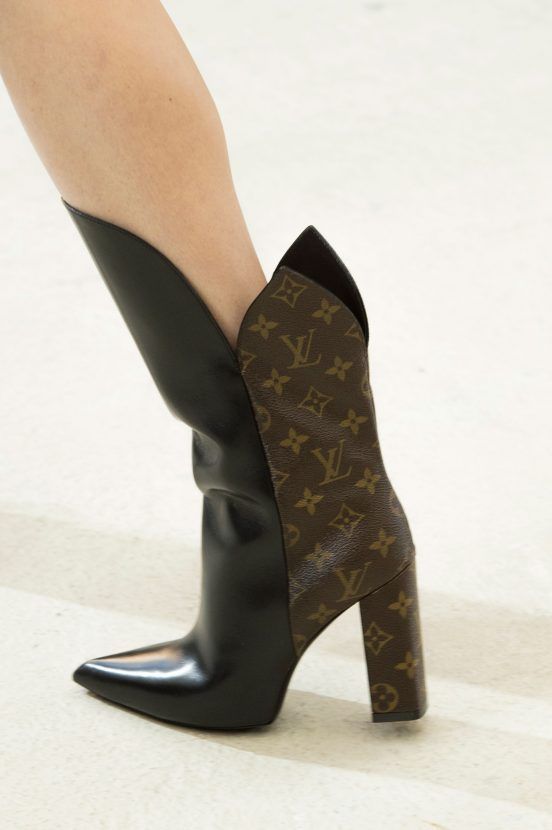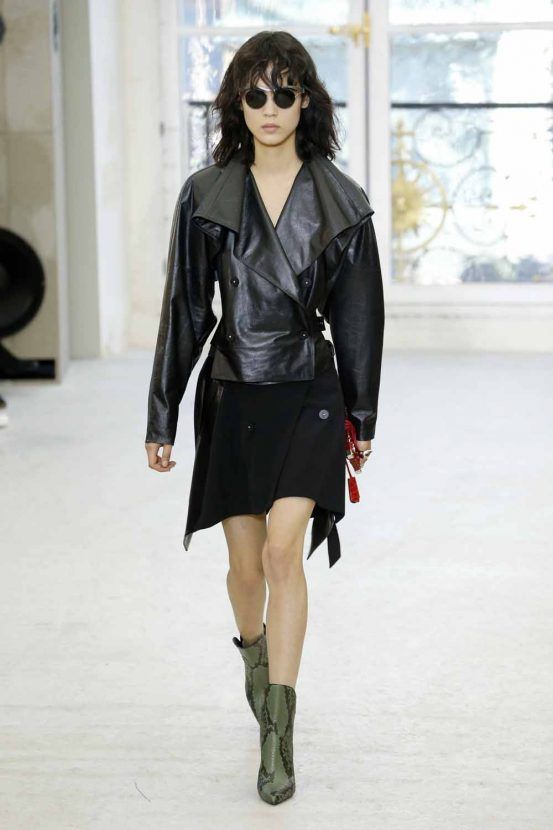 Not a tractor sole in sight. Instead, it was all about a block-heeled, two-tone boot (in some cases, with a LV-monogrammed leather back, naturally). They had a tiny soupcon of Dolly-worthy Western style, but a whole lot more elegance. Girls were embellished with chunky, sculptural jewels including necklaces made up of giant spiky peardrops of metal, and bracelets made to look like knotted pieces of woven gold.

Black leather


Looking a lot less aggressive than it sounds, the old 80s favourite was draped into soft jackets with oversized shoulders, belted skirts and a standout strapless dress.